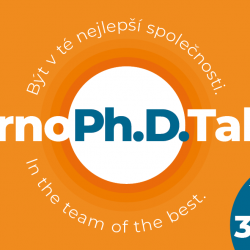 The winners of the prestigious competition of young scientific talents are known. From 130 applications to the Brno Ph.D. Talent 2020 25 students of the first years of doctoral programmes at Brno universities were selected.
The competition projects and the applicants competing for a long-term support from a programme subsidised by the City of Brno were evaluated by top scientists, mostly from abroad but also from the Czech Republic.
"An important element of this programme is the opportunity to offer better conditions to talented doctoral students, and thus also attract them to Brno. Thanks to this support a lot of talented doctoral students come from abroad and many of them remain in Brno working on their research, which is good for the development of the region as a place based on supporting the knowledge economy", the director of the JCMM, Miloš Šifalda, explains the long-term support of the programme by the City of Brno.
For the following three years, the selected students will receive a financial support in the total amount of CZK 300,000. The awards go to Czech and foreign doctoral students (France, Italy, Ukraine, and Slovakia) in the fields of science and technology of Masaryk University, Brno University of Technology, and Mendel University in Brno. The competition is conducted in English and this year applicants and evaluators had to deal with complications caused by the COVID-19 pandemic. The last round, which traditionally takes place in front of a commission composed of scientific experts, took place online for the first time in history.

"For scholarship holders, the main benefit of the scholarship award is the financial contribution which has a positive effect in eliminating student´s concerns regarding the standard of living. As a result, it allows the scholarship holder to devote themselves fully to doctoral studies and scientific work, " adds Barbora Dofková, the JCMM project manager.

The Brno Ph.D. Talent 2020 is subsidised by the statutory City of Brno. The project is part of the Regional Innovation Strategy. Its implementation is provided by the JCMM.

Email: barbora.dofkova@jcmm.cz
Mobile phone: +420 724 929 257